_____CANADA
Political focus on the middle class a product of mythical economic thought
Checking out Trudeaumania
Don't Blame Trudeau for Being Popular
Justin Trudeau: The Millennial candidate?
Justin Trudeau bashes National Energy Program in Calgary
Justin Trudeau is just your average centrist Grit
Justin, Justin and more Justin Trudeau
Trudeau tackles leadership bid with energy
Justin Trudeau is our new best friend
Charisma will carry Justin Trudeau only so far
Destiny's child? Just watch him
Rona Ambrose is no coward
Canada's foreign investment review process: a layman's guide
The Death of Innocence
Northern Gateway being attacked from all sides
Harper is rushing the public hearing for a new Supreme Court justice, again
Will consumers save Canada's beef industry this time?
Free trade put an end to anti-Americanism
Move to free trade with U.S. ensured our future
Omar Khadr is now Canada's problem, let's make the right choice
How Canada can change the world
A demand for quality first nations education
Justin Trudeau: Canadians not satisfied with Tory government
Tories go behind closed-doors in House committee to kill opposition motion to prevent omnibus bills
budget.
NDP tries shaming Tory backbenchers into giving up partisan trash talk
PM says Montreal, not feds, wanted Abdallah in Port job
The Commons: Playing 20 questions with Gerry Ritz
Parsing the 'self-regulation'
XL Foods takes 'full responsibility' for meat recalled for E. coli
Mulcair demands Ritz resign over E. coli case
Senate calls for agriculture minister to make regular food safety audits
XL Foods plant won't reopen until safety assured, Ritz says
Canada's newest Supreme Court judge reveals personal side at committee
Feds pursuing Stephane Dion plan to clean up contaminated sites
Russian explorer proposes meeting at North Pole between Stephe
.
Nexen takeover by China: Are we being naive or progressive?
akeover of an American asset, citing national security concerns.
Federal NDP opposes Nexen takeover bid
Mulroney's advice to Harper: Don't give up on the United Nations
Google cache reveals major rewrite of DFAIT backgrounder on eve of Tanzanian presidential visit
Justin Trudeau's fairy tale bid for Liberal leadership needs a big bad wolf
Justin Trudeau's Record Suggests He Has Few Answers Of His Own
Horgan:
Justin Trudeau: the right face with the wrong mouth for Canada's liberals?
Little Mosque star Zaib Shaikh on why he's backing Justin Trudeau
Liberal leadership hopeful Justin Trudeau says Enbridge pipeline not a good idea
Ivison:
Conservatives fear Justin Trudeau's drawing power could create Obama-like surge
'Big Guy' Al Toulin, a friend and a giant of journalism
Tories on defensive over planned DND cuts; tout record of investing in health
Federal government to spend less this year than last on food safety, budget officer says
Food-safety questions point to delays in passing information
Alberta beef plant resumes partial operations
Beef scare resurrects talk of national E. coli vaccine for cattle
Walkom:
Massive Alberta meat recall is Harper's Walkerton moment
Italian prosecutors say Canada too lax on Mafia
First Nations leader forges ahead with trip to Iran
Tory cabinet ministers contradict record on Port of Montreal controversy
Brian Mulroney urges "confident" Canada to pursue more trade abroad
Free trade with China still a decade away, Mulroney says
Mulroney unplugged: A former PM's thoughts on Quebec, Trudeau and the legacy of free trade
Feds unimpressed with teacher union's Northern Gateway lesson plans
Enbridge says B.C. declined offer to discuss pipeline benefits
.
Federal Court upholds contested hate-speech law despite pending repeal
Couple fined $120,000 for immigration fraud following government crackdown
Bill could exile 'thousands' of permanent residents for minor crimes
Duncan says he'll listen to Conservative on wage freeze bill
B.C.'s 'Swirly Face' child-sex offender released from custody
Canada's Omar Khadr Is No 'War Criminal'
Tell Us Which Websites Improperly Share Private Info
Ottawa spends $3 million to battle First Nations child welfare case
Victoria group starts legal fund ahead of pipeline protest
Updated: BCTF says education funding below national average
New BC lieutenant governor donated to BC Liberals
'UN spends too much time on itself,' Baird tells General Assembly
Furlong Publishes 'Final Statement' on Story He Calls a 'Disgrace'
Rob Stewart's Mission to Save the Humans
'Sussex Drive': A Very Canadian Coup
VIDEO: Canadian Dance Moves
RCMP in 'holding pattern' on data allegations, waiting on BC health ministry
Government contradicts First Nations ed underfunding claims
Shell oil sands project violates treaty rights, First Nation argues
Gov't Mum on How Union Raises Will Be Paid
Northern Gateway: A Pipeline Without a Seatbelt
'Looper'
The Andre Williams Blame Game
OpenFile suspends publication to prepare for upcoming changes
_____FOREIGN AFFAIRS
The Real News Network:
The Debate: A Masterful Liar Defeats a Man Without Conviction
The Debate: Why Didn't Obama Defend his Record?
US Elections: Pick Your Poison
Hardliners,
Weapons-Makers the Real Winners in Japan-China Dispute
Faced with Police Violence, Thousands return to Spanish Parliament
Little Debate About Afghan War in Election Campaign
Shadow Banking and Conventional Banking Depend on Government Support

Venezuelan Barrios Vote for Chavez and Participatory Democracy
Shadow Banking Still an Unregulated Threat
Assange Speaks to UN

Financialization and the World Economy

The Promise


The Globalist:
Iran, Oil and U.S. Electoral Politics

No Fracking Way

Human Back-Up Systems

Pascal Lamy: All Negotiating is Domestic

Today's Middle East: 1848 Redux?
Foxconn's Reform Riot
Reforming Global Finance
Global Citizens and the Global Economy

Ten Steps to Run the Economy as if the Future Matters


iNFORMATIOM CLEARING HOUSE:
Ex-defense Chief Says Attack On Iran Would Be Disastrous
http://www.informationclearinghouse.info/article32644.htm
Estimating the human toll of airstrikes
http://www.informationclearinghouse.info/article32647.htm
The Currency War on Iran
http://www.informationclearinghouse.info/article32648.htm
China To Challenge US Dollar Reserve Currency Status
http://www.informationclearinghouse.info/article32653.htm
Appeals Panel Undermines Free Speech Victory Over NDAA
The U.S. government is still allowed to lock up American citizens
indefinitely inside military facilities, thanks to a ruling this week
by a panel of three 2nd-circuit appeals judges.
http://www.informationclearinghouse.info/article32646.htm
Intelligence Effort Named Citizens, Not Terrorists
http://www.informationclearinghouse.info/article32645.htm
Voting for Death
http://www.informationclearinghouse.info/article32649.htm
America's Duopoly of Money in Politics and Manipulation of Public Opinion
http://www.informationclearinghouse.info/article32655.htm
Expanding the Debate Exclusive:Third Party Candidates Break the Sound Barrier As Obama-Romney Spar
http://www.informationclearinghouse.info/article32652.htm
The Secret GOP-Dem Effort to Shut Out Third Parties
http://www.informationclearinghouse.info/article32651.htm
Why the US Demonises Venezuela's Democracy
http://www.informationclearinghouse.info/article32650.htm
Emergency Call for a United Front Against Austerity
http://www.informationclearinghouse.info/article32654.htm
15 armed Taliban killed in Kandahar:
http://is.gd/oWfc2O
30 killed in Wardak Raid: Isaf:
http://is.gd/Mm6DVb
US war on Afghanistan militants will not succeed, President Hamid Karzai says:
http://is.gd/KBwXSu
21 Republican Guards killed in Syria blast:
http://is.gd/gCcLxC
Syrian soldiers killed by Turkish fire near border:
http://is.gd/hetSmd
Syria apologizes for civilian deaths in Turkey:
http://is.gd/ZzHALj
Turkey's Parliament Approves Further Military Action Against Syria:
http://is.gd/Bx9CzT
NATO backs Turkey but unlikely to do more over Syria:
http://is.gd/ELFQEw
Turkey snubs Iraq's call for troop pullout:
http://is.gd/3i1u3I
5 killed, 13 wounded in Baghdad comb explosion:
http://www.panarmenian.net/eng/news/125927/
i
http
://is.gd/rH7btK
Yemen's capital plunged into darkness after tribesmen blow up electricity pylons:
http://is.gd/3BAYK6
A Rare Occurrence In The Saudi Currency Market Tells You That Trouble Is Brewing In The Middle East:
http://is.gd/jASd1j
Hyperinflation Hits Iran; Monthly 70% Inflation Rate; Reflections on Economic Warfare:
http://is.gd/T3N7nn
Iranians Abandon Meat for Bread as Rial Drop Fires Protests: ppers to stockpile goods.
http://is.gd/D71hLh
Sanctioning society: From Iraq to Iran: Op-Ed
http://is.gd/Pufl7V
In a world gone crazy: US court orders Iran, others to pay $6 b for 9/11 terror attack:
http://is.gd/cXzljf
Three policemen killed in Libya coastal town: medic, police:
http://is.gd/qyPrEK
Protesters storm Libyan parliament:
http://is.gd/EXHRmV
Two reportedly held in Istanbul over US ambassador's killing in Libya:
http://is.gd/csaMAC
Four Russian policemen killed in Ingushetia ambush: -
http://is.gd/kQE0AE
How has Venezuela changed since Hugo Chavez took power?:
http://is.gd/kmGSEj
UK: Workers are £1,600 a year poorer because of state of economy, study finds:
http://is.gd/4GBPmu
In a world gone crazy: Exclusive: Banks Fire Warning Over Fines:
http://ht.ly/edggp
Iceland's Economy now growing faster than the U.S. and EU after arresting corrupt bankers:
So Iceland decided not to follow the rest of the world by bailing out the bankers. Instead, they chose to arrest them. Now their
economy is recovering faster than the EU and the United States. Hmmmm.
http://is.gd/ygZ2Wj
Six Biggest U.S. Banks Earn $63 Billion:
http://is.gd/ezR3Ty
http://www.informationclearinghouse.info/article32639.htm

US, Allies Wage Economic War On Iran
http://www.informationclearinghouse.info/article32640.htm
Syria, The Story Thus Far
http://www.informationclearinghouse.info/article32638.htm
Are You A Terrorist? Army Says 'Social Network' Use Is a Sign of Radicalism
http://www.informationclearinghouse.info/article32641.htm
Whatever Happened to Civil Liberties?
http://www.informationclearinghouse.info/article32637.htm
The Plot Against Occupy
http://www.informationclearinghouse.info/article32631.htm
Fighting For Justice When Your Skin's Black
http://www.informationclearinghouse.info/article32636.htm
Obama's Other Race Speech? Video
http://www.informationclearinghouse.info/article32635.htm
One in Seven US Seniors Live in Poverty Video
http://www.informationclearinghouse.info/article32632.htm
'The American Dream Has Become a Myth'
http://www.informationclearinghouse.info/article32633.htm
To Vote Or Not To Vote? Wake the F*ck Up!
http://www.informationclearinghouse.info/article32634.htm
London: 7/7 Bombings: Conspiracy Road Trip
http://www.informationclearinghouse.info/article32627.htm
Libya: U.S. targets militants for reprisal:
http://is.gd/RbBvPf
Engineering Consent For An Attack Mali:
http://is.gd/p0ibq5
US: Military Effort Needed to Oust Mali Islamists:
http://is.gd/iXaUf6
White House secret meetings examine al-Qaeda threat in North Africa:
http://is.gd/RvbXnq
British soldiers are dying in Afghanistan to win the war of Whitehall:
http://is.gd/MoRE5e
Time to name all the dead in Afghanistan: how many civilians have been killed?:
http://is.gd/Ousrg2
'Drone attacks in violation of international laws':
http://is.gd/oA9783
Mitt Romney says he would indict Ahmadinejad for genocide incitement - video -
http://is.gd/O6V9qX
Netanyahu and Romney share ideology - and donors:
http://is.gd/FBEy1j
The government has made an "absolute mockery" of Bradley Manning's right to a speedy trial:
http://is.gd/VYkLcc
Police stakeout bill for Assange tops £1m :
http://is.gd/4RNQv1
Court Says Obama Administration Can Still Detain Anybody Indefinitely:
http://is.gd/ewBY8M
New software uses smartphone camera for spying:
http://is.gd/C4pCB6
Worst app ever? Malware lets phone spy on you:
http://is.gd/fFeUjX
Warrentless monitoring of social media on the rise:
http://is.gd/7w5cQE
Univision uncovers more deadly Fast and Furious details:
http://is.gd/QCtIiD
Video - Univision Special On Fast & Furious' Connection To Massacre Of Mexican Teens:
http://is.gd/wJFO3Y
Video shows that Obama ordered operation Fast and Furious in March 2009,
http://is.gd/jMbqhK
Top 1% Got 93% of Income Growth as Rich-Poor Gap Widened:
http://is.gd/ynEfhO


The European Union Times:
Europeans must fight against global banking cartel: Analyst
Source
Related posts:
US prepares to strike Libyan militia suspected in Benghazi attack
Source
Related posts:
Zimbabwean White farmers ordered to hand over land
Source
Related posts:
Portugal jobless rate to hit 16.4% as income tax hike set for 2013
Source
Related posts:
Radical Israeli settlers vandalize Christian monastery
Source
Related posts:
>>>>>>>>>>INFOS <<<<<<<<<<
LES NOUVELLES D'AUJOURD'HUI


21h34 -
Ontario
·
Le corps du deuxième homme soupçonné aurait été trouvé
La police de l'Ontario ne pouvait encore confirmer si un corps qui a été retrouvé mercredi soir, était bel et bien celui du deuxième
homme suspecté d'avoir séquestré et violé un adolescent de 16 ans en Nouvelle-Écosse. Agence QMI Jeu
21h21 -
CSST
·
Un forcené force l'évacuation des bureaux
L'homme aurait manifesté son mécontentement avant de sortir un couteau à lame rétractable d'une de ses poches. Agence eu
18h03 -
Gentilly-2
·
Le PQ lance une pub erronée
Le Parti québécois a véhiculé une fausse information dans une publicité sur sa page Facebook en laissant sous-entendre que les
coûts de réfection de la centrale nucléaire étaient de «6,3 milliards $ sur deux ans». Agence QMI Jeu
16h47 -
Tanzanie
·
Les investisseurs canadiens seront protégés
Les négociations en vue de la signature d'un accord de promotion et de protection des investissements étrangers entre le
Canada et la Tanzanie sont terminées, a annoncé jeudi le premier ministre Stephen Harper. Agence QMI Jeu
16h05 -
Laval
·
Perquisitions chez le maire Vaillancourt
Des équipes d'agents de la Sûreté du Québec (SQ) ont perquisitionné jeudi après-midi le domicile du maire de Laval, Gilles
Vaillancourt ainsi dans ses bureaux à l'hôtel de ville, dans le cadre d'une enquête criminelle majeure, a appris l'Agence
15h46 -
Montréal
·
«Die-in» pour une imposition plus juste
La Coalition opposée à la tarification et à la privatisation des services publics a tenu un «Die-in», jeudi midi, devant la Tour de la
Bourse à Montréal, mettant en état d'alerte le service de sécurité de l'édifice. Agence QMI Jeu
15h29 -
Casino | Niagara Falls
·
Il croyait avoir gagné le gros lot
Harry Blackwood affirme avoir gagné 25 000 $ dans une machine à sous du Casino de Fallsview, à Niagara, mais les autorités ont
refusé de le payer. Agence QMI Jeu
14h39 -
Santé
·
XL Foods est toujours fermée
L'Agence canadienne d'inspection des aliments (ACIA) a élargi une fois de plus sa liste de produits rappelés, à la suite de la
contamination de viande de bœuf à la bactérie E. coli. Agence QMI Jeu
14h29 -
Politique
·
Le NPD s'oppose à la vente de Nexen à la société d'État chinoise CNOOC
Le NPD invoque surtout «le manque de transparence du processus d'approbation», ainsi qu'un «nombre alarmant de questions
qui restent sans réponses». Agence QMI Jeu
14h26 -
Mafia en Ontario
·
McGuinty rejette la thèse d'une épidémie
«Les policiers canadiens s'occupent de la mafia ici», a dit le premier ministre ontarien jeudi. Agence QMI Jeu
14h21 -
Gentilly-2
·
Bécancour n'abandonne pas
Malgré la déception après l'annonce de la fermeture définitive de Gentilly-2, les Bécancourois comptent se battre pour faire
reculer le gouvernement Marois. Agence QMI Jeu
13h47 -
Katia Hadouchi
·
Funérailles et hommage protocolaire
Parents, amis et collègues de l'agente de la Sûreté du Québec, morte dans un accident de la route, lui ont rendu un dernier
hommage, jeudi, à Laval. Agence QMI Jeu
13h16 -
États-Unis
·
Obama accuse Romney d'avoir menti pendant le débat
«Si l'on veut être président, on doit la vérité aux Américains», s'est écrié M. Obama lors d'un discours à Denver. AFP Jeu
12h47 -
Homophobie
·
Familiprix retire sa publicité
Devant le tollé provoqué par sa publicité télé jugée homophobe, Familiprix a annoncé jeudi qu'elle sera retirée des ondes. Agence
12h00 -
Espagne
·
Une tuerie évitée à l'Université des Baléares
La police espagnole a arrêté un jeune de 21 ans qui se préparait à déposer des bombes à l'Université des Baléares, imitant le
massacre de Columbine, aux États-Unis. AFP Jeu
09h08 -
Intervention militaire en Syrie
·
Feu vert du Parlement turc
Le Parlement turc a adopté jeudi une motion du gouvernement turc autorisant l'armée à conduire «si nécessaire» des opérations
en Syrie. AFP Jeu
08h23 -
Changements climatiques
·
Une réalité pour l'opinion publique
Les populations à travers le monde sont désormais largement conscientes et souvent inquiètes du changement climatique,
surtout si elles vivent dans les pays du sud, moins riches et plus exposés. AFP Jeu
08h03 -
Débat présidentiel
·
Mitt Romney marque des points
Deux tiers des personnes interrogées par CNN immédiatement après l'émission l'ont désigné vainqueur, contre un quart pour
Barack Obama. AFP Jeu
07h53 -
Montréal
·
Une plantation est trouvée dans un immeuble commercial
L'alarme du bâtiment situé sur la rue Legendre Ouest, près du boulevard de l'Acadie, s'est déclenchée aux alentours de 4
h. Agence QMI Jeu
07h35 -
Couronne nord | Entreprises d'Accurso
·
Les perquisitions se sont terminées dans la nuit
Les perquisitions des agents de Revenu Québec dans des entreprises de Tony Accurso, qui avaient débuté tôt mercredi, se sont
terminées dans la nuit de jeudi. Agence QMI Jeu
03h15 -
Retour de Vito Rizzuto
·
En milieu hostile
La tâche ne sera pas facile pour Vito Rizzuto s'il veut reprendre sa place. JDM Jeu
03h11 -
Familiprix
·
Pub homophobe?
Une annonce de Familiprix «parodie un homme gai et se termine dans la violence». JDM Jeu
03h01 -
Le Québec
·
Paradis de l'alcool au volant
«À partir du moment où il n'y a plus de crainte d'être poursuivi, il n'y a plus d'intérêt à faire attention.» JDM Jeu
02h53 -
Sondage
·
Démission de Tremblay réclamée
Une forte majorité de Montréalais souhaite voir leur maire quitter ses fonctions. JDM Jeu
BELOW(30)(30)(30)(30)(30)30)(30)(30)(30)(30)(30)30)(30)(30)(30)(30)(30)30)(30)(30)(30)(30)(30)(30)(30)(30)30)(30)(30)(30)(30)30)30)(30)(30)(30)(30)

.
From: "Stephanie McDowall"
Subject: The right to purchase herbs and vitamins ends feb.4, 2013
Only 4 months away.
When we consider all the allowed toxins in our food & various other products we regularly use, the chem trails that we are all exposed to every day and night except when it is windy and which our media and our elected Members of Parliament say is just water vapour, and now this, I can only surmise that we have a government that wishes us to knock off sooner rather than later. What's just as bad is that our Opposition Members are pretty blase about all of this. Our media is a lost cause.
We have a Government that has stood in the Legislature for the past week addressing the E coli contamination of meat saying how they always put the Canadian Consumer first. Like hell they do !!
> ----- Original Message -----
> Sent: Thursday, October 04, 2012 4:11 PM
> Subject: Case in point
>
>
>> Case in point. On Feb. 4, 2013, Canadians will lose their right to
>> purchase many herbs and vitamins when UPLAR (Natural Health Products
>> Unprocessed Product Licence Applications Regulations) goes into effect.
>> Under Bill C-38, Health Canada (Canada's FDA) will have legal authority to
>> pull unlicensed herbs and vitamins off the shelves, with jail time and
>> fines against the sellers. Vitamins currently available in health food
>> stores will be replaced with low-dosage, inferior products made by
>> pharmaceutical companies. Health Canada alone will determine whether a
>> product is safe or effective.
>>
>> An ill-informed government agency has no role in deciding what we use as
>> medicine, or the natural, unadulterated foods we choose to consume.
>>
>> The current Conservative Government is failing the health and safety of
>> Canadians by refusing to label genetically modified organisms (GMOs) found
>> in our food, and by gutting Canada's stringent environmental laws to
>> favour mining and oil interests above the common good, such as fisheries.
>> Its push to approve the controversial Northern Gateway Pipeline Project at
>> all costs will devastate our pristine coastlines and coastal communities
>> forever.
>>
>> Our elected officials need to start thinking less about their six-figure
>> pensions and ribbon-cutting ceremonies, and focus on the long-term
>> well-being of the people they represent.
>>
>> You can't become the fittest people on earth when the food and water
>> you're consuming is making you sick, and our farms and rivers are turning
>> into wastelands for fracking residue and tailings ponds.
>>
>> If our MPs are serious about reducing our country's health care costs,
>> they need to place their neo-conservative ideology aside and reinstate the
>> hundreds of jobs cut by the Harper government at the Canadian Food
>> Inspection Agency, so that the recent E. coli disaster doesn't repeat
>> itself. That's what happens when governments allow corporations to self
>> regulate.
>>
>> Pina Belperio
>>
>> Whistler, BC
>>
===================================
From: Rebecca Gingrich
_______
Subject: Reverse Onus clause violates the Constitutional Rights of Violent
Offenders, but is okay for law-abiding gun owners? DD

City of Hamilton - Public Health Services
The Van/Harm Reduction Program
http://www.hamilton.ca/HealthandSocialServices/PublicHealth/SexualHealth/TheVan.htm

Joe--our governments will decide which behaviour is acceptable in Canada?? Last time I checked illegal drug use was a crime but now the taxpayer will supply the needles and the access to clean needles to support this behaviour. While legal gun owners are fair game for any control the government decides to impose?? Governments don't want thinking people, they want controlled people so they can instigate any nefarious rules they want.

I heard on the radio today that a Hamilton councillor is whining because there are not automatic door openers on their renovated government building. He feels locked out!!

Now they know how we feel in our entire country.

BTW--gun control means using both hands!!!

becky

_______
Subject: FW: Anti-Empire Report, October 2, 2012
http://www.killinghope.org/bblum6/aer109.html

Joe--just as in Canada--it doesn't matter who we vote for--they are all the same.
becky


===================================
From: "Glenn HAREWOOD"


Joe:
A Controversial link which I recently received.
Glenn Harewood
=========
From:
Sent:
Monday, October 01, 2012 12:39 AM
Subject:
DI
http://www.youtube.com/watch?v=dlEX1xD1wtM&feature=related
===================================
From: Larry Kazdan
Subject: Letter to Editor re: Changes to federal health spending will hit provincial governments hard, budget officer says, Jason Fekete September 27, 2012


Re:Changes to federal health spending will hit provincial governments hard, budget officer says,
Jason Fekete September 27, 2012
http://www.canada.com/Changes+federal+health+spending+will+provincial+governments+hard+budget+officer+says/7310340/story.html



Fiscal difficulties of the provinces are a result not only of direct federal downloading, but also of federal austerity. As long as Canada imports more than it exports, and our private sector wants to net save, there will be a purchasing power gap. This gap has to be filled by federal deficits or the economy will spiral downward with a consequent loss of tax revenues at all levels. The evidence is clear in the Euro-zone where attempts to balance national budgets through contraction have failed, and have led to mass unemployment and riots in the streets. The welfare of Canadians will be enhanced when the Conservative government spends money and puts people to work - not by irresponsible budget cuts that terminate jobs and jeopardize our health and safety.


Larry Kazdan,
620 E. 23 Ave.,
Vancouver, B.C.
(604) 874-9982

Footnotes:


1. The Celtic poster child demonstrates the failure of austerity




===================================
From: rjkoopmans <rjkoopmans74@gmail.com>
Subject: Executive Dissertations:The Little Dutch Girl That Could

Blog: Executive Dissertations
Post: The Little Dutch Girl That Could
Link: http://rjkoopmans.blogspot.com/2012/09/the-little-dutch-girl-that-could.html
--
Powered by Blogger
http://www.blogger.com/

===================================
From: Mahmood Elahi
Subject: Exhausted by Bush's two long wars, U.S. suffers from "terminal combat fatigue syndrome"

The Editor
Ottawa Citizen
Copy to: Dr. Condoleezza Rice, Former Secretary of State and Professor in Global Business and Economy, Stanford University:
Before criticizing President Obama for not showing leadership in the Middle East, you must realize that under your and President Bush's watch, the United States got embroiled in two bloody wars in Afghanistan and Iraq. You invaded Iraq to dismantle its nonexistent weapons of mass destruction and now the country is embroiled in a never-ending bloodletting between the Sunnis and the Shiites. In Afghanistan, the American-installed Karzai regime resembles the Soviet-installed corrupt Najibullah regime. The Taliban continue to slaughter the American troops in the same way Mujahedeen slaughtered the Russian troops. With little to show in Afghanistan, you must realize that democracy cannot be imposed at gunpoint. It must grow from inside and without outside interference. President Obama has rightly decided to withdraw the troops to end this meaningless loss of American lives.
You seem also not to realize that China's challenge to America is economic and not military. Last year, I spent a month visiting Shanghai, Beijing and other cities of China. With its Maglev (magnetically-levitated) trains running at an incredible speed of 430 kilometers per hour, Shanghai looks like a city of the future. I saw China's industrial might while visiting Shanghai's huge container port -- the world's largest. As far as the eye can see, ships of all sizes were loading and unloading containers with robotic precision. By 2010, China has achieved many important milestones: it has overtaken Japan as the world's second largest economy, it has overtaken the United States as Japan's biggest trading partner, it has overtaken Japan as South Korea's biggest trading partner and it has overtaken the United States as the world's greatest trading nation. In fact, China is now bankrolling America's trillion-dollar budget deficit.
China is also on the way to bypass America in research and development. While the United States, facing a financial crunch, is winding down its once touted space program, China is expanding its own. China has already sent astronauts into space and is now gearing up for robotic and manned missions to the moon and beyond. Dr. Jing Naihe, director of Shanghai's Institute of Biochemistry and Cell Biology, said "our top stem cell labs are among the world's best" and "in ten years, we should be at the top."
The United States, facing an enormous budget deficit, cannot compete with a growing China enjoying a huge surplus of $3 trillion. And it was President Bush's staggering $1.67 trillion tax cut for the rich -- squandering a huge left behind by President Clinton-- that made America dependent on China's largess. President Obama is trying to roll back Bush's tax cut for the rich. But Republican-controlled House will not let him to do so. Let's hope, he will be successful in his second term as the Republicans are likely to lose their majority in Congress.
Exhausted by Bush's two long wars, U.S. suffers from "terminal combat fatigue syndrome"
Re: "In search of some backbone in U.S. foreign affairs," by David Van Praag (Sept. 22).
David Van Praag writes: "Former Secretary of State Condoleeza Rice offered the kind of rhetoric required of Romney: 'Chaos or China will prevail,' if the United States does not lead as the exceptional nation in the drive for global democracy." Both Dr. Condoleezza Rice and David Van Praag may be reminded that it was under Ms. Rice's watch, the United States became embroiled in two wars in Afghanistan and Iraq and now, exhausted by two bloody conflicts, most Americans are suffering from what can be called: the Terminal Combat Fatigue Syndrome (TCFS): The unwillingness to shed more American blood in far of lands. This explains why most Americans are opposed to any preemptive strike against Iran.
In fact, combat fatigue was evident even during Bush's tenure. During his tenure, Mr. Bush kept on declaring that Iran must not be permitted to get the atomic bomb and he kept on warning that "military option" was on the table as a last resort. In a speech at West Point in 2002, he asserted: "If we wait for threats to fully materialize, we will have waited too long." But at the time, the United States had invaded Afghanistan and was in the process of invading Iraq and Mr. Bush had no intention to become involved in a third war with Iran. So, he did nothing. Mr. Obama has correctly refused to be drawn into a new war with Iran and is trying to stop Iran through sanction and other non-military means.
Dr. Rice and Mr. Praag may be reminded that China's challenge to America is economic and not military. With China bankrolling America's trillion-dollar budget deficit, Ms Rice should know it better. And after failed attempt to bring democracy in Afghanistan, Dr. Rice must also realize that democracy cannot be imposed at gunpoint --- it must come from within without any foreign intervention.
MAHMOOD ELAHI
2240 Iris Street, Ottawa. Phone: (613) 228-9600

===================================
From: "S Booiman"
To: "Harper Stephen Calgary Southwest" <harper.s@parl.gc.ca>
Subject: Flag

All week I have been waiting for a serious response from Ottawa about
Marois and the Canadian Flag, not a sound, guess it does not bother
the Cons.Government, whom are going down my ladder every day more,
with the unfortunate that there is no alternative. Listening/viewing
SUN TV there were two back benchers, not ever having a chance for
promotion, commented, SUN TV said,but very little comments anywhere
else. And the tax-payer from across the Nation are funding Quebec.
Why are we paying MPs to be shadows???
SSuan.

===================================
From: Rene Moreau <rene.a.moreau@gmail.com>
Subject: Fwd: Something you might find very interesting.

---------- Forwarded message ----------
The link below is for an interview on Democracynow.org that is very
very very informative. Thought you might appreciate it.
http://www.democracynow.org/blog/2012/9/19/david_cay_johnston_the_fine_print_how_big_companies_use_plain_english_to_rob_you_blind


"If they give you ruled paper, write the other way."
~Juan Ramon Jimenez

===================================
From: "Brian D. Marlatt"
Subject: China, Nexan, the CPC positions and a few off-the-cuff comments posted to Facebook, in reply to commentary, which may be helpful.
Brian Marlatt I think they have been caught by the contradictions of their own philosophy and policy priorities. They have declared "Canada is open for business" to the world, urged foreign "investment" in Canadian natural resources, called for sovereign treatment equality in business relationships, lobbied China hard as an emerging likely replacement for the US, urged the Northern Gateway pipeline and related proposals to serve the Chinese need for energy as an alternative to Keystone XL because the environment is a greater concern to the Obama administration than it is to their ideological fellow-travellers in the neocon dominated US Republicans who see science as an inconvenience. Now they have been caught by their own positions - to the discomfort, it is reported, to many in their caucus. The stated owned corporate entity proposing to "invest" in the tar sands (oil sands is today's "clean energy" rhetorical preferred term) and to buy Nexan and other similar companies and to buy oil reserves is in essence the government of the People's Republic of China. China is buying the oil and energy resources it needs and wants to the exclusion of all other considerations, including the environment and Canadian sovereign interest. The Alberta oil patch is in danger of being bought up like Manhatten Island for a string of beads and the Alberta-first neocon "free marketers", laissez-faire capitalist corporatists are allowing it to happen on their watch. They are doing so because they are caught up by the contradictions of their positions. Like the model of multi-culturalism which sees communities as colonies of immigrants (and their are other models, but that is a fair way of describing what we have) the neocons are allowing economic colonialism through their free market capitalist model which gives the government of China the right to pursue Chinese sovereign state interest: in effect, gospel, glory, and gold, id est colonialism.
===================================
From: The Natroses

Been working on a working hypothesis - perhaps a developing theory on the neoconservatism that is evident across the globe. What makes them tick? Could it be the same optics working beneath the cover of politics and leadership at play in the early 20th century? Optics? What do I mean by optics? The working ideologies and belief systems of people who have the economic, social and political capital, to justified the political and economic policies of the day, and in fact the present, where the globe is undergoing systematically, the removal and suppression of rights, freedoms and human rights. To be replaced by a set of rules/regulations under a heavy regulatory regime, and which would be the eventual goal of the economic and political powers, no matter the political beliefs. Left or right - it is all about moving the extremes of the polar left and right to the center, to justified the belief systems, along with the personal belief systems of those who hold political and economic powers to be imprinted as the new norm.

What got be going was this - " Mr. Harper had long made it clear that he did not support Mr. Woodworth's private member's motion, and Conservative Whip Gordon O'Connor delivered a speech in the House opposing it. But some of the party's highest ranking MPs voted in favour of the motion anyway, including Status of Women Minister Rona Ambrose and House Leader Peter Van Loan.
Minister of Intergovernmental Affairs Peter Penashue, Citizenship and Immigration Minister Jason Kenney, International Co-operation Minister Julian Fantino, National Revenue Minister Gail Shea, International Trade Minister Ed Fast, Agriculture Minister Gerry Ritz, Minister of State for Seniors Alice Wong and Minister of State of Foreign Affairs Diane Ablonczy also voted for the motion.

Labour Minister Lisa Raitt, who voted against the motion, tried to play down some of her colleagues' votes in its favour. "It's time to move on," she said. "We voted in a free vote, but the reality is that my constituents knew and understood that this was something that government was not going to be opening up."
http://www.theglobeandmail.com/news/politics/ottawa-notebook/motion-on-rights-of-the-fetus-fails-but-finds-cabinet-supporters/article4569871/?utm_medium=Newsletter&utm_source=The%20Globe%20and%20Mail&utm_type=text&utm_content=TheGlobeandMail&utm_campaign=98040184
What were the underlying beliefs systems of the above MPs, considering their actions and behaviours of the past, and the present. Present, pick any story being played out, and the same cabinet ministers are justifying their policies, even if it mean lying to their citizens. One thought popped up in my head. No, but can it be? No, it can't be eugenics and its ideology at play? It turned out, from my initial exploration, I am not the only one to make the connections, of the belief systems that are held by the political and economic powers. Superiority over other lesser human beings? Sure feels like it, when injured veterans are told to take a hike and live on less than what was promised by the government and armed forces recruiters. Where peaceful protesters are fined and described by, "Natural Resources Minister Joe Oliver, who described some of the protesters last year as "extremists," declined to comment on the specifics of the court ruling, but said through a spokesman that "controversial projects should be evaluated through comprehensive and independent scientific evaluations, not simply on political criteria."


http://o.canada.com/2012/10/02/1003-enviro-fines/
Much like Nazi Germany, where ideologies and belief systems of both the political and economic powers and by extension the globe, deemed those who dare to opposed the Nazi regime, not with fines, but with death sentences. A reminder, of a BBC broadcast, announcing the death of Hitler. Can you imagine what it was like for anyone of average means, watching the broadcast, trying to make sense in their minds, the contradictions, former beliefs systems being challenged, based on what was told to them by the politicians and economic powers and the cognitive dissonance at play? "Cognitive dissonance is the term used in modern psychology to describe the state of holding two or more conflicting cognitions (e.g.,ideas, beliefs, values, emotional reactions) simultaneously. In a state of dissonance, people may sometimes feel surprise, dread, guilt, anger, or embarrassment. [1] "
http://en.wikipedia.org/wiki/Cognitive_dissonance
At the 5 minute mark - connect the dots to my working hypothesis.


http://www.youtube.com/watch?v=uskRgtDDaCY
It would make anyone think, why leading industrialized developed countries - the political and economic powers had policies up and running after WWII, that marked prosperity for one and all and the building up of the social net. Government pensions, health care, income support, and high employment but more importantly the means to covered the basic necessities of food, shelter and transportation , plus a little bit left over to put into the savings for a rainy day. Today? It is disappearing. Headlines such as, "Three tons of food looted from grocery stores in Spain, as millions struggle"
http://www.eutimes.net/2012/09/3-tons-of-food-looted-from-grocery-stores-in-spain-as-millions-struggle/
So much for austerity policies, and very much like the policies of early 20th century governments.

The headline in today's NP - "Vulgar Keynesianism at the root of Justin Trudeau's embrace of the middle class"
http://fullcomment.nationalpost.com/2012/10/03/andrew-coyne-political-focus-on-the-middle-class-a-product-of-mythical-economic-thought/
The story above, is just another one in the media, repeating the messages that workers are paid too much, and especially for the low-skilled workers. "
People who go on about "the great middle class" like to cite the example of Henry Ford, the father of mass production, who paid his workers $5 a day, so it is said, in order that they could afford to buy his cars: an especially magical form of "money in your jeans" thinking. (Why not pay them $10 a day? Then they could buy two!) I rather suspect he paid them the $5 because they'd earned it." Shudder to think, how many of the political and economic powers and the belief systems that are at played, are justifying their stances that in the long run, leads to grocery stores being looted. Something that might be coming to North America, where real wages have not made any gains since the 1980s, but not according to this journalists - "Not that the middle class is noticeably suffering for lack of politicians' attention. During the long expansion from 1992 to 2007, median household incomes rose by 20% after inflation. The share of all income going to the middle 60% of the population is almost exactly the same now as it was 20 years ago, give or take a percentage point."
In a round about way, the journalist is putting out the message, the middle-class is entirely composed of professionals. No oil-rig worker or fish harvester is on his list, nor the lowly farmer or the assembly-line worker. This set or group now becomes the costs of production, and justifies the economic policies of the 21st century, where all people below the professional, are receiving government benefits. and ergo, can be paid less. The same type of economic policies in the early 1900s are at played, and can be dated back to the 1870s. Just take a look on newspaper accounts of the time period between 1870 to the beginning of WWII, and compared the stories to the 21st century newspaper accounts. Belief systems are intact - the kind that serves the purpose of superiority over other lesser human beings, to justified the policies of the political and economic powers.
Social Conservatism - " Social conservatism is a political ideology that focuses on the preservation of what are seen as traditional values. The accepted goals and ideologies related to preserving traditions and morality often varies from group to group within social
conservatism
. Thus, there are really no policies or positions that could be considered universal among social conservatives. There are however a number of general principles to which at least a majority of social conservatives adhere, such as support for puritanical morality and traditional
family values
, often based on a specific understanding of
Abrahamist
values, and opposition to sexual permissiveness."
http://en.wikipedia.org/wiki/Social_conservatism
As I read in the annuals of essays, treatises and other literature, an emerging definition, of what a modern 21st century social conservatism would look like. In its infancy stage, it is being formed based on class structure, and of maintaining the class structures based on the outdated belief systems that has its origins rooted in the 17th century. Where science and technology was alchemy - black magic, controlled by the political and economic powers, falling in line with the values and belief systems of the people who had the political and economic powers in their hands that so happen that maintain values of superiority over other human beings. Where white slavery of the bonded indenture servant kind, was very much part of the economic policies in North America in the era of settlements of the 1600s to the early 1800s. Some of it still operating in the last half of the 20th century, in programs such as the British Home Children. "T
HE BRITISH CHILD EMIGRATION SCHEME TO CANADA (1870-1957) -
100,000 British Home Children (alleged orphans) were sent to Canada by over 50 British Child Care organizations. These 4-15 year old children worked as indentured farm labourers and domestic servants until they were 18 years old. The organizations professed a dominant motive of providing these children with a better life than they would have had in Britain, but they had other ignoble and pecuniary motives."
http://freepages.genealogy.rootsweb.ancestry.com/~britishhomechildren/
Today, the Harper Conservative government, of the extreme right are still practicing other policies based on the same belief systems as the British Home Children policies, and motivated by the same reasons, to maintained the class structure and divisions, where ordinary people become the political and economic causalities of policies and the blame for every ill in the world. The Harper government is a very good example of inflicting their moral superiority and belief systems. The latest being, "Under a proposed new law, thousands of permanent residents could lose their status and be deported for minor convictions, from shoplifting to traffic and drug offences, warn Canada's top immigration lawyers.

"These are young children brought to Canada at a young age as permanent residents, raised and schooled in Canada . . . (but) never took out citizenship," lawyer Guidy Mamann told a news conference Thursday.

"It is unconscionable that a country like Canada, which has always allowed for second chances, to now embark on a new 'one strike you're out' approach."


http://www.thestar.com/news/canada/article/1266354--bill-could-exile-thousands-of-permanent-residents-for-minor-crimes
It would not take too long, to put the Conservatives of the Harper government, into a closet, with a bare light shining upon them, to ascertained that their belief systems and values are of the same kind that Hitler and Nazi Germany employed, and of the same kind being employed as we speak across the globe. More more sophisticated methods, compared to the crude methods of Nazi Germany, the early 20th century methods of factory owners and mistreatment of labour, or even the latest justification and pathetic excuses of the Harper government, on the current e-coli meant scandal, that should have never materialized in the first place, if the Conservatives did not hold belief systems in the first place, that allows the conditions to form and mature, where food recall becomes the new norm. Often wonder why, the many justifications being made by the federal conservatives, and not one concern or a pause, if any of them consumed the beef products in question, or is it because they eat their beef, very well done, on the texture of leather and chewing of cow hide, to eliminate all possibilities of e-coli germs. Will that be the new expenditure of television ads, on telling Canadian citizens the virtues of eating well-done beef, on the consistently of chewing cow leather, rather than the expenditures of reading the riot act to beef producers, and laying down the food safety laws to the beef processing facilities? That is, if the food safety laws have not been removed, by sleight of hand, beneath the noses of Canadians, and to which I would see it as regular operating procedures , of a government that does not give one whit on the outcomes of the ordinary citizens of average means.

"Believing in eugenics does not imply a political position beyond itself. Put more succintly, you can be a eugenicist no matter where you are on the political spectrum: anarchist, fascist, socialist, national socialist, white nationalist, black nationalist, syndicalist, libertarian, liberal, centrist, etc. Most belief systems can include eugenics seamlessly; the two exceptions I can think of are 1) the idiocy that calls itself "progressive liberalism" these days, and 2) Islam."


http://eugenicist.tumblr.com/post/5148569368/eugenics-across-the-political-spectrum
"The philosopher Leo Strauss was perhaps best known for the view that great philosophical works­especially those produced in times when persecution for heretical views was commonplace­often concealed an "esoteric" message, intended only for an elite of truly "philosophical" readers, that was different from, and often quite at odds with, the surface meaning of the text. A somewhat cruder version of that view has often been associated with neoconservatives­many of whom count themselves admirers of Strauss. This was perhaps most clearly expressed by the late neocon grand don Irving Kristol in an interview on the subject of religious belief:


There are different kinds of truths for different kinds of people. There are truths appropriate for children; truths that are appropriate for students; truths that are appropriate for educated adults; and truths that are appropriate for highly educated adults, and the notion that there should be one set of truths available to everyone is a modern democratic fallacy."


http://www.juliansanchez.com/2012/02/24/straussian-social-conservatism-and-the-dangers-of-contraception/
"And so we come to why Social Conservatism is important. Social Conservatism reinforces societal norms which lead to responsible behaviors without government intervention. Social Conservatism causes people truly to be responsible, and provides the true liberty of choice. And because of this, Social Conservatism is an aid Fiscal Conservatism. By encouraging people to be responsible on their own, Social Conservatives reinforce the ideas of thrift and hard work, of honesty and loyalty. They then enable people to ween themselves off of the Government's narcotics of welfare and control, and so enable the responsible shrinking of government."


http://dedicatedtenther.blogspot.ca/2012/02/real-world-why-is-social-conservatism.html

"Eugenics casts a shadow in large part because of the way in which it was pursued. It is no surprise that Nazis would seize on such ideas as a theme and rationale for a campaign of exclusion, terror, and murder. Although lesser mayhem came from the pursuit of genetic "betterment" by zealous protectors of middle-class mores and interests bent on subduing a troublesome underclass, those unjustly sterilized and segregated in their efforts numbered in the tens of thousands. These abuses, however, do not lend themselves to condemnation of the eugenicists' every thought and goal, any more than Nazi cost-benefit thinking condemns cost-benefit thinking.

Though we agree with the need to be vigilant over any hint of a return of these abuses, our examination of the shadow of eugenics has focused on the less visible issues of morality and justice at its center. These pose questions and challenges as much as of warnings and admonitions. Reprehensible as much of the eugenic program was, there is something unobjectionable, and perhaps even morally required, to that part of its motivation that sought to endow future generations with genes that might enable their lives to go. We need not abandon this motivation if we can pursue it justly."


http://www.nyu.edu/gsas/dept/philo/courses/bioethics/Papers/GeneBook/CH2.html



And the last bit of background information - "Bioconservatism (a portmanteau word combining "biology" and "conservatism ") is a stance of hesitancy about technological development especially if it is perceived to threaten a given social order. Strong bioconservative positions include opposition to genetic modification of food crops, the cloning and genetic engineering of livestock and pets, and, most prominently, rejection of the genetic, prosthetic, and cognitive modification of human beings to overcome what are broadly perceived as current human biological and cultural limitations. [1] [2]


Bioconservatives range in political perspective from right-leaning religious and cultural conservatives to left-leaning environmentalists and technology critics. What unifies bioconservatives is skepticism about medical and other biotechnological transformations of the living world. Typically less sweeping as a critique of technological society than bioluddism, the bioconservative perspective is characterized by its defense of the natural, deployed as a moral category. [1] [2]

Although techno-progressivism is the stance which contrasts with bioconservatism in the biopolitical spectrum, both techno-progressivism and bioconservatism, in their more moderate expressions, share an opposition to unsafe, unfair, undemocratic forms of technological development, and both recognize that such developmental modes can facilitate unacceptable recklessness and exploitation, exacerbate injustice and incubate dangerous social discontent. [1] [2]"


http://en.wikipedia.org/wiki/Bioconservatism#Contrasting_stance



Ergo, it leads me back to my original questions of the Harper government and those that stood up to vote aye for Woodworth's private motion, and then turned around, and defend the policies of food inspection, the changes, even though it places all the public at great risk in food-born illnesses? I can only conclude, that the belief systems are based on the eugenics philosophies, the various optics and dogma of social conservatism and its many variants, How particular galling, that Justin Trudeau background is attack, implying that he is not made of the same qualities of the conservative hypocrites residing currently as the sitting government, who think nothing of spending millions on the War of 1812, taking great pleasure at revising the history of the war of 1812, to suit the ideologies and belief systems of the Harper conservatives, and their brand of moral superiority over the classes beneath them. Who would want to be compared to the values and belief systems of the neoconservatives of the 21st century, as the measuring stick. In their world, if they have their way, all classes beneath the professional classes have become the causalities, the causes, and the blame for all ills of the society, even though most of the ills of the world stems from the policies, attitudes and belief systems of the ones holding the political and economic powers in their hands.


Where Canadians don't deserve answers to e-coli meat scandal, the robo-calls scandal, and the list below of just a few.....

1. "
Canada's energy industry is calling for government to disband two organizations involved in monitoring and mitigating the environmental impact of the oil sands."


http://www.theglobeandmail.com/news/national/oil-industry-calls-for-environmental-monitoring-groups-to-be-disbanded/article4576601/

2. "Health Canada has detailed records of probes into ADHD drug safety, including fatalities, that it is keeping secret from the public."


http://www.thestar.com/news/canada/article/1263560--ottawa-keeps-adhd-reports-secret

3. "The Conservative government is poised to adopt a sweeping new investment treaty between Canada and China without a single Parliamentary vote or debate."


http://www.theglobeandmail.com/news/politics/tories-quietly-table-canada-china-investment-treaty/article4573635/?utm_medium=Newsletter&utm_source=The%20Globe%20and%20Mail&utm_type=text&utm_content=TheGlobeandMail&utm_campaign=98076970

4. "The Conservatives invited two witnesses to the Standing Committee on Citizenship and Immigration today from the Canadian Immigration Report, an organisation associating itself with racists and hate groups.

On the Canadian Immigration Report website, we can find among other things, an interview with well-known Canadian white supremacist Paul Fromm:

"Certainly the policy in Canada is one of ethnic cleansing and replacement. By 2015, the European founding settler people will be a minority … we will have been ethnically cleansed out of our own country."


http://www.ndp.ca/news/have-look-whos-been-invited-to-standing-committee-citizenship-and-immigration

5."Now the government is poised to do it again.

On the opening day of Parliament's fall session, Government House Leader Peter Van Loan announced the first order of business would be another omnibus bill. He wouldn't say how big it would be or what it would include. All he would disclose is that it would focus on the economy and give the government more latitude to sign free trade deals, export resources and offer business-enhancing tax credits.

Asked why the government would bring forward a second too-big-to-digest bill when the first was bitterly denounced, Van Loan cheerfully replied that this is the new normal. "Our budget was a comprehensive plan for jobs and growth," he said. "All the pieces go together. It's natural that a budget implementation bill would implement the elements of the budget."


http://www.thestar.com/opinion/editorialopinion/article/1262157--harper-rewrites-the-rules-of-democracy

6. "Public Works Minister Rona Ambrose has appointed an Ontario businessman to help improve Canada's often-troubled defence procurement process.

She says Tom Jenkins will be a special adviser and will work with defence contractors to boost competitiveness.


Jenkins is executive chairman and chief strategy officer of OpenText Corp., of Waterloo, Ont.

He was chairman of an expert review panel which looked at federal support for research and development and made recommendations for the government's 2012 economic plan."


http://www.winnipegfreepress.com/canada/ambrose-appoints-businessman-to-work-with-defence-industry-government-171539721.html

In the 1930s - "While in the wake of the Great War, Dominion Day was less of a boisterous and patriotic affair, by the Great Depression of the 1930s, class-divisions and dissatisfaction with the failure of the federal government to address the economic crisis led to one of the most raucous and violent Dominion Days in Canadian history. On July 1st, 1935, the Regina police and the Royal Canadian Mounted Police attacked a group of striking relief camp workers during a Dominion Day rally. Part of the "On-To-Ottawa Trek," the striking workers were hoping to use the Dominion Day holiday to raise money and food to support their return home following the failure of strike negotiations with Prime Minister Richard Bennett. The Prime Minister ordered the police to seize and capture the leaders of the Trek in Regina and instead they instigated a city-wide riot that resulted in the mass arrest of over 100 people. It was certainly a memorable Dominion Day, but hardly a celebratory affair. To many of Canada's unemployed in the 1930s, Confederation had failed."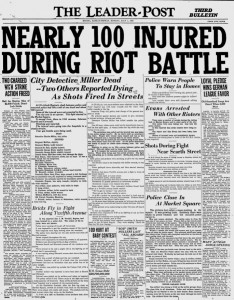 http://www.seankheraj.com/?cat=79
Belief systems of the Canadian political and economic powers were high on the eugenics philosophies, controlled of the working classes, and attitudes resting in the superiority of the political and economic class over the lesser human beings of average means. The same type of attitudes, that is now in full display in Ottawa. Imagine inviting a known white supremacist to an immigration committee hearing? Only a neoconservative would do that, and see nothing wrong with it...........and than get upset to be compared to Hitler and his belief systems.


Why can't neoconservatives answered simple questions? They come face to face with beliefs systems of contradictions and hypocrisy. Besides that, they need a front man to give them their daily talking points.............

At least, Justin Trudeau does not need a front man, to supply him with talking points. But than again, Justin is not planning to to change Canadian society, to a time where attitudes and belief systems of the political and economic powers of Canada, that thought nothing of mowing down striking workers, that was a perceived threat to the political powers of the 1930s. Not long ago, in the city of Toronto, the same thing happened where people dare to bring up the contradictions and hypocrisy of a neoconservative government that exposes their belief systems of disrepute.

This Was the Day that Canada Died -
http://www.youtube.com/watch?v=BDptnTgMfJI



===================================